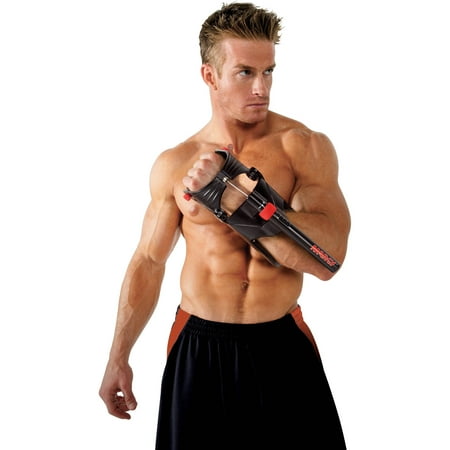 Strengthen your finger, forearm and wrist using the WEDGE Marcy Wedge Forearm Wrist and Finger Developer. The exerciser's distinct resistance system aids in building the extensor and flexor muscles. With adjustable grip, it can be made to suit different arm and hand shapes. With regular use, this adjustable Marcy forearm developer builds catching ability, handling for hockey sticks, basketball ball control and more. Easy to use, fit the exerciser over your arm and move it back and forth, adjust the variable resistance to make it slightly harder than the previous level you have mastered. This workout equipment is a simple, effective way to train at home for almost any sport or just for your own health and well-being. This convenient tool can be used while you're reading, surfing the net and more.
Adjustable grip
Forearm support for added comfort
Increases grip strength
Strengthens flexor and extensor muscles
Workout equipment for at-home training
Smart choice for athletes of various sports, increasing control and strength
Customer Reviews
I would definitely buy this product again.
This product is small but it definitely does what it says. It's a lightweight but very well-made. [This review was collected as part of a promotion.]Omar
I love it
This is the third one I have purchased. I have give the others away to friends with wrist issues. I have used it for a long time and believe that it is the main reason I never had wrist issues and perform well at sports, especially sports that require strong wrists like golf.Bill
Forearm strength
Well made, easy to use machine that isolates forearm muscle. Strengthens grip. Use it anytime sitting at your desk or just relaxing. Inexpensive and built to last.
You may also be interested in